A Live Demonstration of the Latest Digital Customer Engagement Tools from POPi/o
Thursday, December 9, 2021, at 10am MST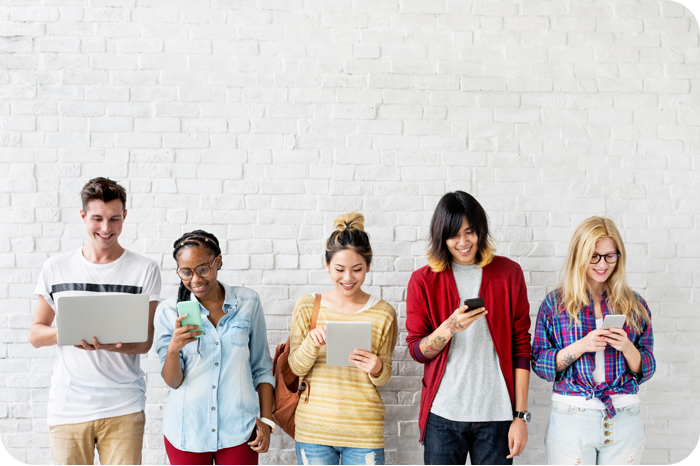 A LIVE REVEAL of the New Digital Customer Engagement Tools for the POPi/o Solution
Financial Institution must adapt to the changing needs of the modern consumer. They need digital banking tools that can facilitate a wide breadth of banking services, from simple self-service experiences to detailed, collaborative processes. With POPi/o, you can do all that and more.
During this free webinar we'll unveil:
• Enhancements made to POPwelcome, including widget on desktop and mobile
• On-demand meetings through a mobile browser
• Text-only collaboration sessions on desktop and mobile
• And many other features!Watch Webinar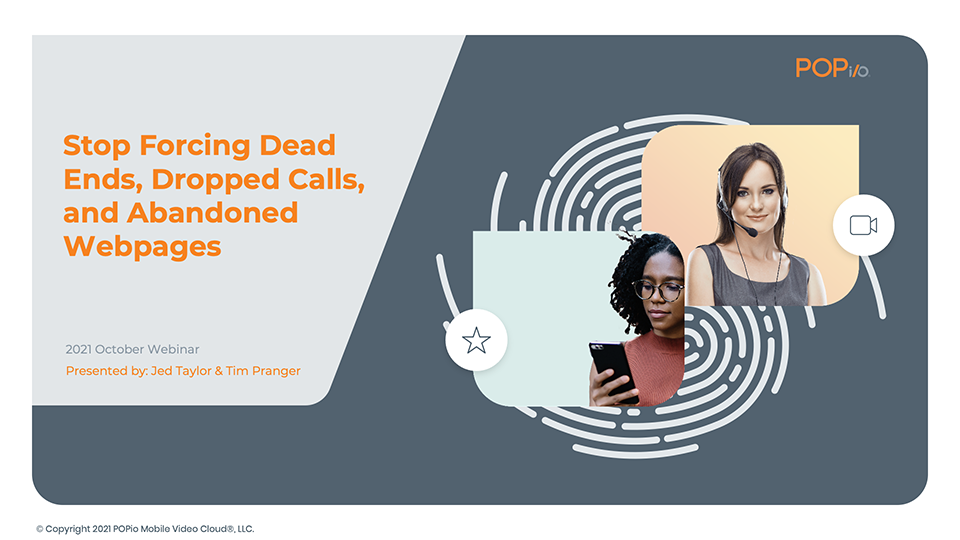 Stop Forcing Dead Ends, Dropped Calls, And Abandoned Webpages
These impediments to the customer journey probably look familiar to your financial institution. But what can be done about them? How can you create a customer experience that's engaging and effective regardless of the channel? You'll discover solutions to digital challenges, frustrated customers, and fatigued employees.
Key takeaways for this webinar include:
• How to identify broken pathways in the customer journey across multiple channels
• What kind of user experience customers are expecting from their FI
• How to preserve digital relevance as banking continues to move online
• Specific use cases from successful Digital Customer Engagement implementationsWatch Webinar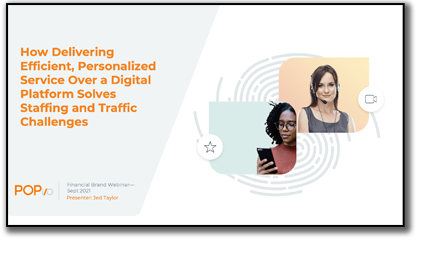 How Delivering Efficient, Personalized Service Over a Digital Platform Solves Staffing and Traffic Challenges
As more people shift from banking in branches to banking online, financial institutions are faced with the challenge of delivering efficient, personalized service over digital channels.
Key takeaways for this webinar include:
• Ensure customers have satisfying journeys with pathways for varying levels of banking service.
• Why the staffing challenges your bank faces do not have to degrade your customer service experience.
• You can help your customers at their moment of need, anywhere, any time, with the right correct Digital Customer Experience Solution
• How to create branch-like engagements with meaningful and successful outcomes in a digital space.
POPi/o's Digital Customer Experience Solution offers a set of features and widely-compatible integrations, making it the only digital banking solution that can handle everything from simple customer service inquiries to sophisticated in-branch processes—all from a single digital session.Watch Webinar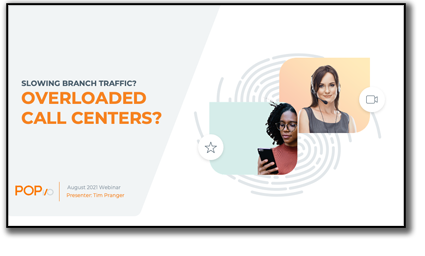 Overloaded Call Centers? Slowing Branch Traffic?
How can you effectively balance customer-facing resources with verifiable success?
This webinar addressed specific pain points your FI is challenged with today:
• Branch traffic is waning; how do I balance my employee resources?
• How can I relieve my overwhelmed call centers?
• Why do my self-service tools have high abandonment rates?
• How can I balance efficiency with stellar customer solutions?
Learn how to solve these challenges in a way that will not only benefit your FI, but will also be satisfying and convenient for your customer.Watch Webinar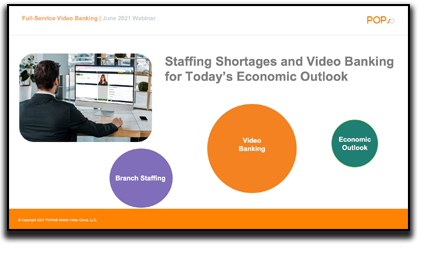 Staffing Shortages and Video Banking for Today's Economic Outlook
The US labor shortage has taken a toll on many industries, and banking is no exception. Financial institutions everywhere are faced with the task of staffing their branches economically—despite the fact that more people than ever before are doing their banking digitally. So how can an FI get the most out of their workforce? By expanding their footprint and managing customer relationships with full-service video banking.
Watch Webinar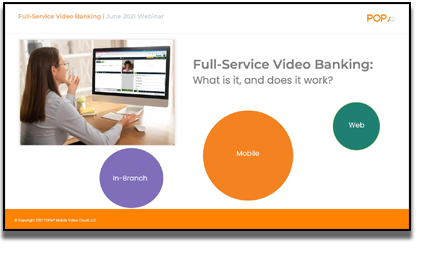 Full-Service Video Banking: What is it and does it Work?
As financial institutions reopen their branches post-pandemic, new research confirms that 43% of consumers plan to continue doing all their banking digitally. It's more important than ever for banks and credit unions to meet consumer needs for digital services. find out why POPi/o's full-service video banking solution is the most efficient and comprehensive way to service relationships in the digital landscape.
Watch Webinar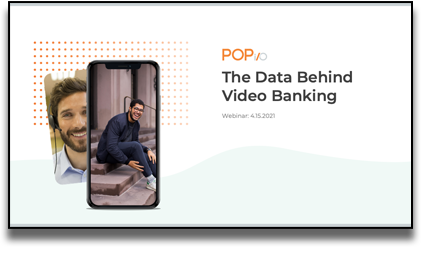 The Data Behind Video Banking
How do things like ROI justification and cost-saving measure stack up with full-service video banking?
Watch this webinar to learn about:
• Successes from banks and credit unions using video banking
• How performance and adoption matters
• The facts of consumer usageWatch Webinar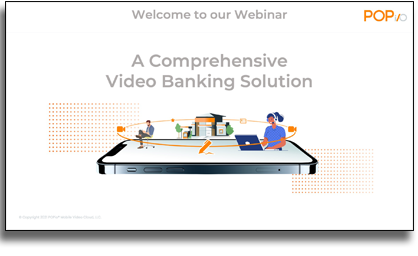 A Comprehensive Video Banking Solution
Find out why video banking is becoming a key platform for financial institutions.
Watch this webinar to learn about:
• The features and capabilities of video banking
• Insights to the three channels of delivery – mobile, in-branch, and web
• Examples of successful implementation
• 5-hidden truths you need to know about video bankingWatch Webinar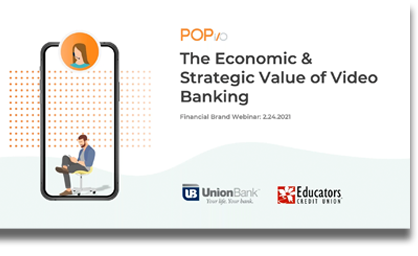 The Economic & Strategic Value of Video Banking
Video banking deployments create compelling economic value and other important strategic advantages.
Watch this webinar to learn about:
• The real economic and strategic value of full-service video banking
• Why full-service video banking is here to stay, and why your digital strategy needs to embrace it.
• What FI executives who have implemented it have to sayWatch Webinar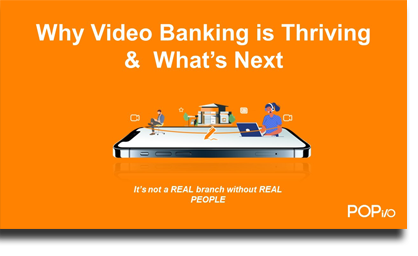 Why Video Banking is Thriving & What's Next
Has your financial institution discovered the value of video banking, or have you been a bystander expecting this digital movement to end?
Watch this webinar to learn about:
• The evolution and transformation of video banking
• How financial institutions are adjusting branch services to serve the new customer journey
• What consumers are expecting from their FI when needing branch service
Watch Webinar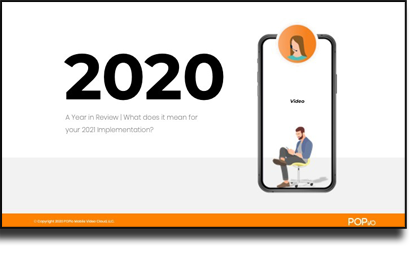 2020 A Year in Review | What does it mean for your 2021 Implementation?
To say 2020 has been a challenging year is an understatement. We've experienced branch closures, employees working from home, significant changes to business strategy, and an ever-changing "New Normal."
Topics will include:
• 2020 full-service video banking call data
• Video banking deployments
• Learn more about your peers
Watch Webinar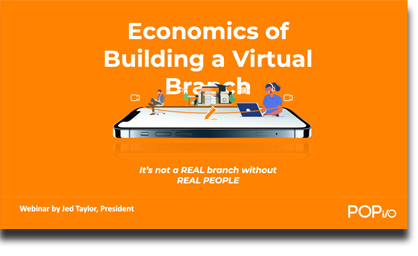 Economics of a Virtual Branch Revealed
What is a Virtual Branch? Financial Institutions across the country have been building Virtual Branches to increase consumer convenience and improve physical branch efficiencies.
This webinar will:
• Explain the strategic and economic drivers behind building a Virtual Branch
• Comparing Physical and Virtual Branches
• Explain Cost Efficiencies of video-enabled branch services
Watch Webinar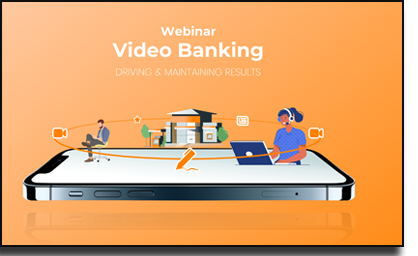 Video Banking: Driving & Maintaining Results
This webinar we will discuss:
• Increasing your service footprint through video banking
• Building trust and increased access for your consumers
• Creating and Closing loans with video banking
• Using video banking to open new accounts
Watch Webinar
Why Educators Credit Union is Using Video Banking
Kimberly Schmidt, VP of Digital Services, at Educators Credit Union shares why they chose video banking, what benefits have come from video banking, and what their video banking strategy going forward will look like. She also shares best practices and answers common video banking questions.
Watch Webinar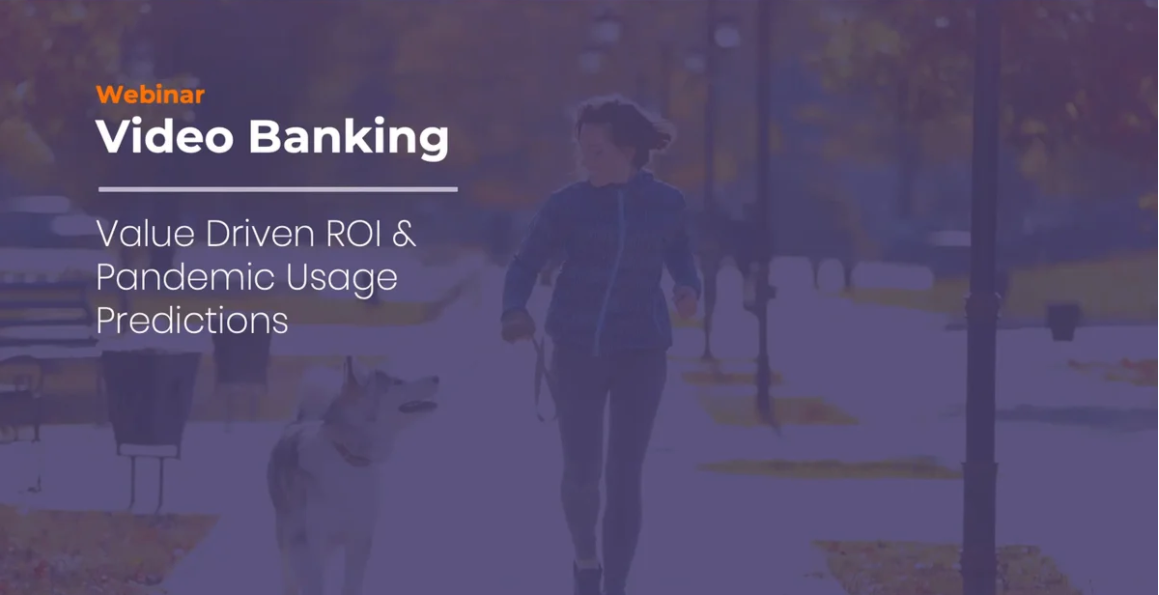 Video Banking | Value Driven ROI & Pandemic Usage Predictions
Video banking is changing the overall strategy of banking. In this webinar we will review:
- Value-driven ROI
- Coupling value and efficiency
- Projecting the value of video with branch volume uncertainty
Watch Webinar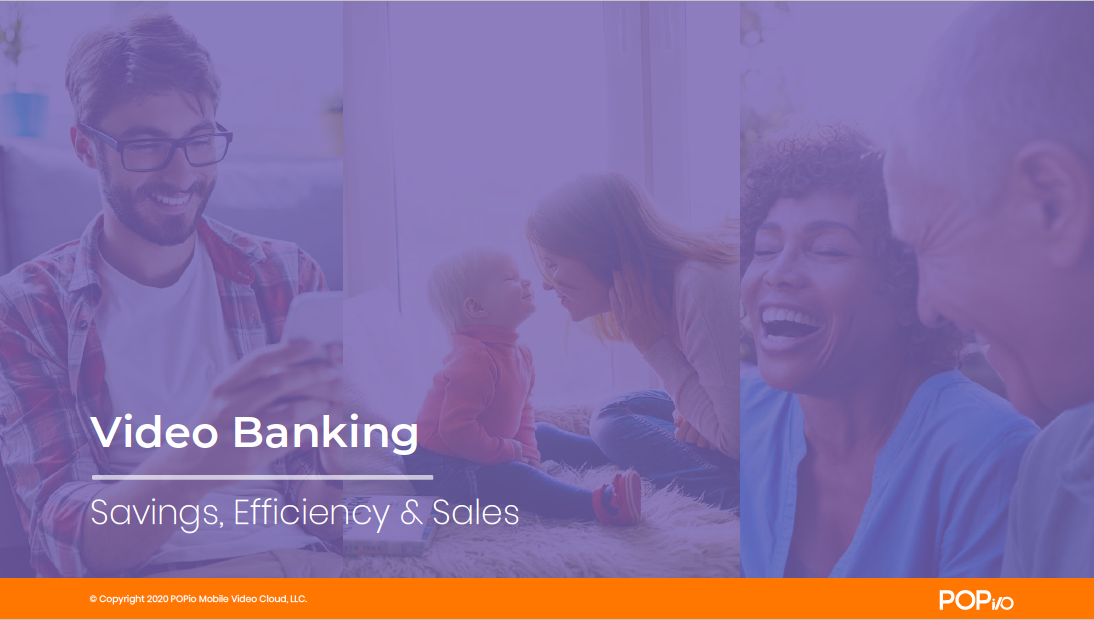 Video Banking | Savings, Efficiency and Sales
Video banking is changing how you interact, serve, staff, and operate your business. In this webinar we will review:
- ROI opportunities gained through efficiency & sales
- How current video banking users are deploying video banking
- The cost vs. reach of video banking and traditional banking methods
- How to make video banking successful at your Credit Union
Watch Webinar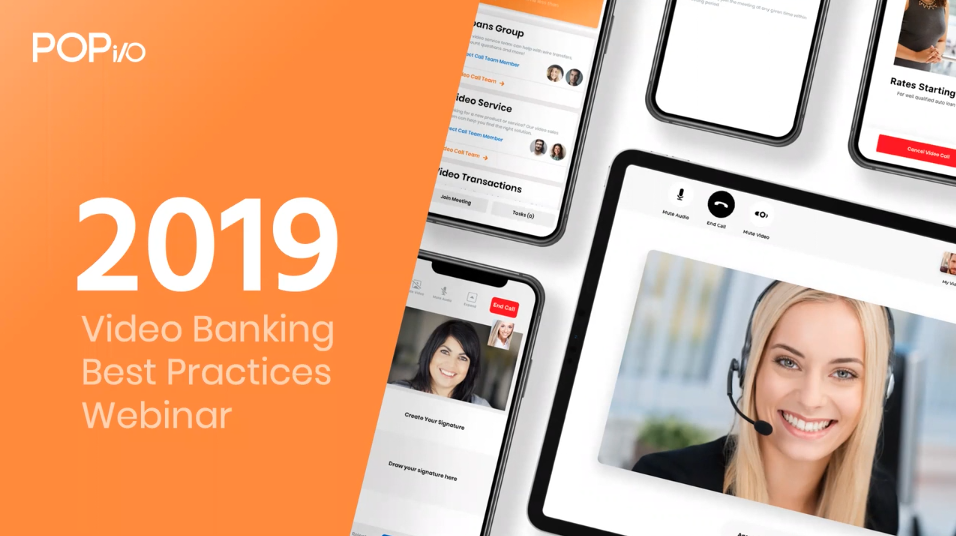 Video Banking Best Practices
Learn best practices from the inventors of POPi/o video banking:
- Best start to your video banking project
- Correctly set up and train video banking agents
- Market and deploy video banking to your membership
- Ultimately grow video banking within your credit unionWatch Webinar